Uphill Skiing At Vail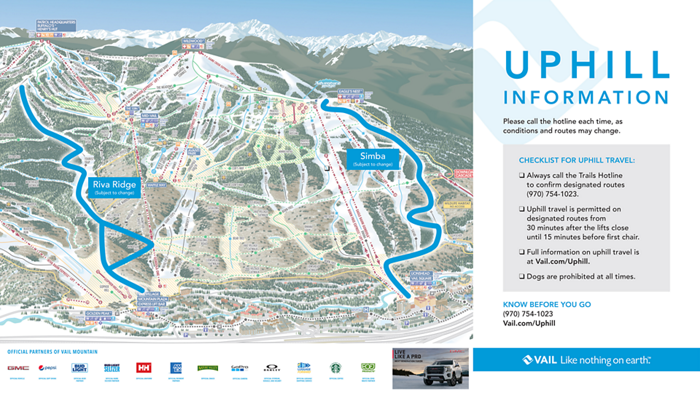 Vail Mountain Uphill
Vail Mountain Uphill Access Policy. Please follow the rules for uphill access on Vail Mountain. Cross-country skiers, snowshoers and hikers, etc are bound by Colorado Skier Safety Act, as amended, and should abide by Your Responsibility Code. Skiers must not impede or obstruct ski area operations at any time. When engaged in any of these activities one should check the list for Uphill Travel by clicking on this tile for their website.
Other Uphilling Near Vail
Meadow Mountain is another great ski touring route that is close to Vail. You can park for free in the Forest Service parking lot which is just off of I-70. There are several routes that go to an old shack at the top and many times, you'll find nice untracked powder on your way down through rollilng fields. Heading a bit farther west, Arrowhead is very popular with skinners, especially at sunrise and sunset. The two main routes up are Cresta and Little Brave. There are also several good routes on Beaver Creek Mountain. Call their uphill line at 970-754-5907. For more adventure, there are several good routes on Vail Pass including Uneva Peak as well as Mayflower Gulch which is just south of Copper Mountain. Chicago Ridge near Ski Cooper has good terrain too. If you're new to the sport, go with someone who is experienced to show you the safest routes.
Stay at Vail International and Skin Up Vail Mountain
Our best rates for the spring of 2023 start on April 9th and extend through the end of the season. Nightly rates for our 2BR/2BA condos start at just $325 per night on 4/9/23 with a two night minimum. The rate includes free parking for one vehicle per reservation and you can walk to Lionshead or take the free in town shuttle to Vail Village to begin your uphill adventures.